Peppermint Mocha Brownies with Cream Cheese Frosting are easy mocha brownies topped with a tangy cream cheese frosting and peppermint crunch.  They're your favorite coffee drink in brownie form!
Well, would you look at this?  I've finally gotten around to posting a Christmas treat.  By now I'm normally covered in flour and surrounded by dozens of cookies, but this year it hasn't happened.  I'm just not feeling it yet for a variety of reasons.  (1) I'm stunned to admit that I don't have a sweet tooth at the moment (which didn't stop me from eating these), and (2) I don't feel like it's Christmas time yet.  Is it just me? I think because Thanksgiving was so late this year it's thrown me for a loop.
Will I feel like it's Christmas soon?  Will I start my endless rounds of Christmas cookie baking??
Tune in next week to find out! 🙂
As for these brownies, I kind of had to make these because my oldest son turned 14 last week.  FOURTEEN!  I swear, I don't know where the time goes.  It feels like he was just in pre-school yesterday.  All I know is what everybody says is true — kids grow up fast.  Too fast.  I mean, the boy is taller than me now!
My son and I are definitely alike in our love for chocolate.  Last year I kicked off the Christmas season with the Peppermint Mocha Cake Roll that I made him for his birthday last year, then I made Peppermint Patty Brownie Cupcakes for his party with his friends.  Do you see a theme going on?  It seemed appropriate to do another peppermint dessert, because my son loves 'em just as much as I do. 🙂
This brownie recipe is one of my all time favorites from Bon Appetit.  I've made it countless times and it's never disappointed.  There's no messing around with chopped chocolate — this recipe comes together so quickly.  They're chocolatey enough for a big chocolate lover like me, and they have such a nice, crackly exterior.
I doctored up the recipe a bit, scaling down the sugar some since we've got frosting!  And of course, I added plenty of espresso powder for a nice, mocha flavor and added some peppermint crunch to the batter.  I topped them with that tangy, cream cheese frosting, and plenty of peppermint crunch, and these brownies were over the top delicious.
These Peppermint Mocha Brownies with Cream Cheese Frosting are everything you want for the holidays.  They're easy, they're festive, and they're straight up crowd pleasers.  What more could you possibly ask for?
Cookies, you say?  Nah…these are so much better than cookies. 🙂
As a special surprise today I have teamed up with a new store and group of my favorite bloggers to bring you a great giveaway! We are giving away a Grocery Scale Kitchen Clock from Gin Creek Kitchen, just in time for the holidays! If you haven't stopped by Gin Creek Kitchen yet it is an online shop specializing in Southern inspired kitchen and home decor. They have great items for your kitchen like decorative measuring cups and spoons, items for entertaining and wall decor! Hop over to Gin Creek Kitchen to check out all of the items and to do a little holiday shopping!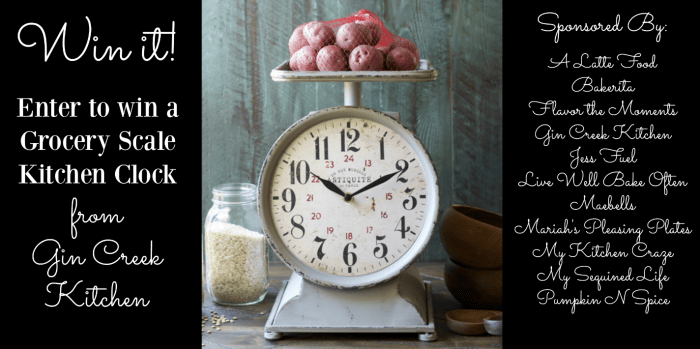 Enter below to win a Grocery Scale Kitchen Clock from Gin Creek Kitchen!
More Peppermint recipes!
Peppermint Patty Brownie Cupcakes
Peppermint Mocha Brownies with Cream Cheese Frosting
Peppermint Mocha Brownies with Cream Cheese Frosting are easy mocha brownies topped with a tangy cream cheese frosting and peppermint crunch. They're your favorite coffee drink in brownie form!
Author:
Flavor the Moments
Serves:
18 larger squares or 32 small
Ingredients
For the brownies:
2 sticks (8 ounces) unsalted butter
2 cups granulated sugar
1½ cups unsweetened cocoa powder
3 teaspoons instant espresso powder
½ teaspoon sea salt
2 teaspoons pure vanilla extract
4 large eggs
⅔ cup all purpose flour
⅔ cup peppermint crunch, divided
For the cream cheese frosting:
8 ounces ⅓ less fat neufchatel cream cheese, softened
6 tablespoons unsalted butter, room temperature
3 cups powdered sugar, sifted
Instructions
Prepare the brownies:
Preheat oven to 325 degrees. Line a 13x9" baking dish with foil and spray with cooking spray. Set aside.
Melt the butter in a small pan or microwave, and set aside to cool slightly.
Whisk together the sugar, cocoa powder, espresso powder, and salt in a large bowl. Pour the butter into the sugar mixture whisking constantly until combined. Whisk in the vanilla.
Add the eggs one at a time, beating vigorously after each addition. Stir in the flour just until incorporated, then stir in ⅓ cup of the peppermint crunch.
Pour the batter into the prepared pan and spread evenly. Bake for 25-30 minutes, or until a toothpick inserted into the center has moist crumbs attached when removed. Cool completely on a wire rack.
Prepare the frosting:
Place the cream cheese in the bowl of a stand mixer fitted with the paddle attachment and mix on medium high speed until smooth. Add the butter, confectioner's sugar, vanilla extract, and vanilla bean paste, if using, and mix on low until incorporated, then on medium high for about 3 minutes, until light and creamy.
Spread the frosting over the cooled brownies and top with the remaining peppermint crunch. Cut into squares, and enjoy!
Notes
This recipe is easily halved and baked in an 8x8" square baking dish.
Brownie recipe adapted by Bon Appetit's
Cocoa Brownies
. Frosting recipe by Flavor the Moments.